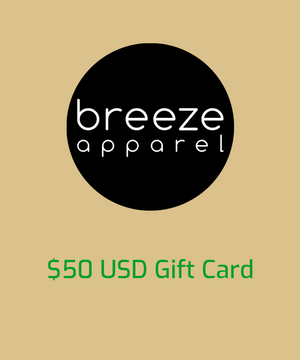 $50 USD Gift Card
Upon purchase, you will receive an email with your unique code. This code can be easily accessed by clicking the "View gift card" button in the email and can be used across multiple purchases, so long as there is a positive balance. Discount codes and existing gift cards may not be used to purchase gift cards. 
Balances are applied to the total value of an order, which may include taxes and/or shipping. If the balance does not cover the total cost of an order, the buyer will be prompted to add a second method of payment to complete the purchase. 
If you would like to purchase a gift card for someone else, you may enter that person's email address at checkout and they will receive the code. Otherwise, you may use your own email at checkout and then forward the email with the code to the intended recipient.
Any questions may be asked by our FB Messenger Chat (widget in bottom-right corner of the site), Instagram DM, or by email: customersupport@breeze-apparel.com.